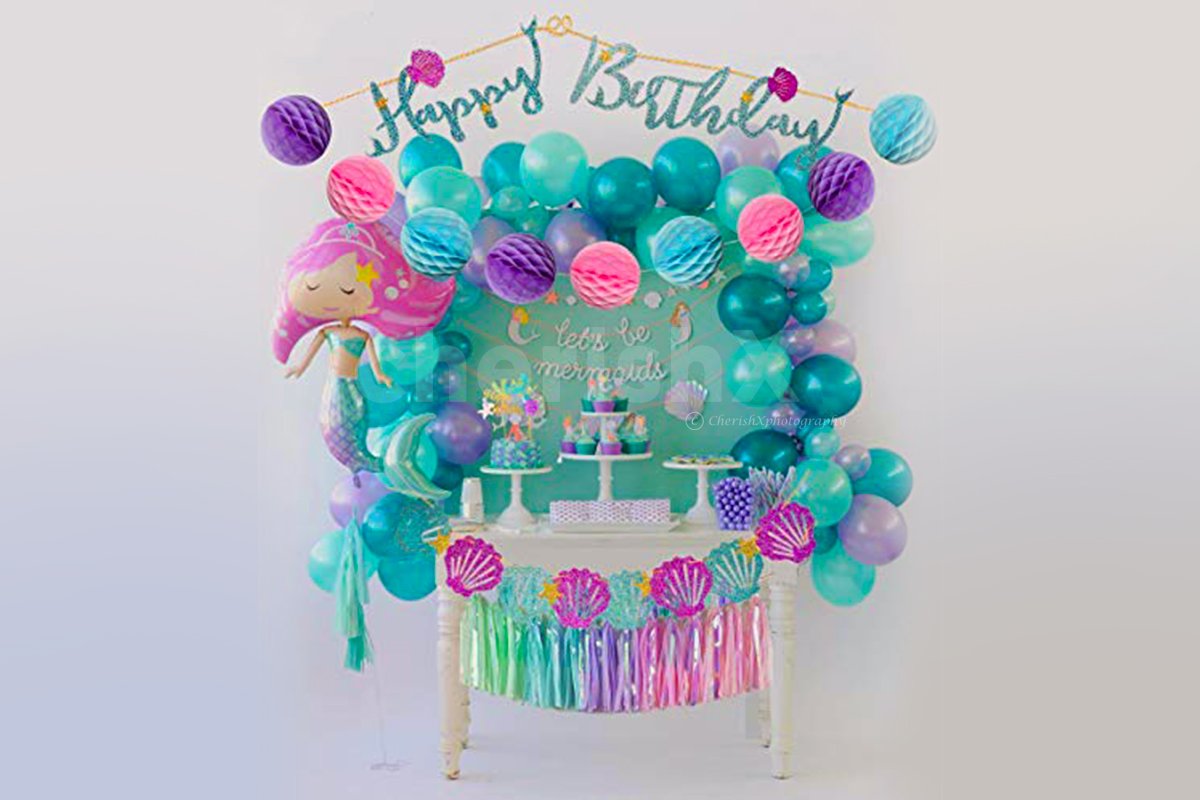 Magical Mermaid Decor
Magical Mermaid Decor in Delhi, Gurgaon, Noida, NCR, Bangalore
About The Experience
The little mermaid 'Ariel' and her cute fish friends-a joy and delight for sweet little kids! Give your child a lovely surprise by getting a themed decoration of their favourite mermaid character- and make her feel like she is in a fantasy land! Children, especially girls, love the concept of fairytales and magic. So we bring the magic to them! Imagine your little one opens her eyes on her bday, and is surprised with this magical mermaid decor. This unique decor consists of a square arc of 200 purple,green, dark metallic green balloons, 2 mermaid foil balloons/cutout, 6 multicolour tassles hanging on a string, 3 purple pom poms, 3 green pom poms, 3 pink pom poms, 1 happy birthday bunting anf 50 balloons in a combination of purple,green and metallic green will be floating loose on the floor.
Inclusions
200 balloons to form square arc: Purple, green, Dark metallic green color

50 balloons loose on floor: Purple, green, Dark metallic green color

2 mermaid foil balloons/cutouts(depending upon availability)

6 multicolor tassles: Hanging on a string

9 Pom-Poms : Purple, blue, Pink color (3 each)

1 happy birthday bunting

Decoration will be done at the choice of your location
Decoration outside Delhi NCR, Bangalore

Table and the material like cake trays etc.
Need To Know
Cutouts are on rent and will be collected the next

Choice of themed cutout or foil balloon will be dependent upon the availability of material

These are only reference images. The actual setup might differ from the image

Your address & any other personal preferences will be taken after your booking

Tape will be used to attach balloons on the wall

Please make sure the rented cutouts are not damaged and are returned the next day
Cancellation Policy
5 days or more before experience: Cancellation with 90% Refund
Helped 5+ Million Customers Cherish Their Special Occasions
5+ Million
Happy Customers over 6 years
4.3/5 Reviews
from 500+ reviews on Google
In the Media
Featured by the best
Top Brands
Partnered with top brands