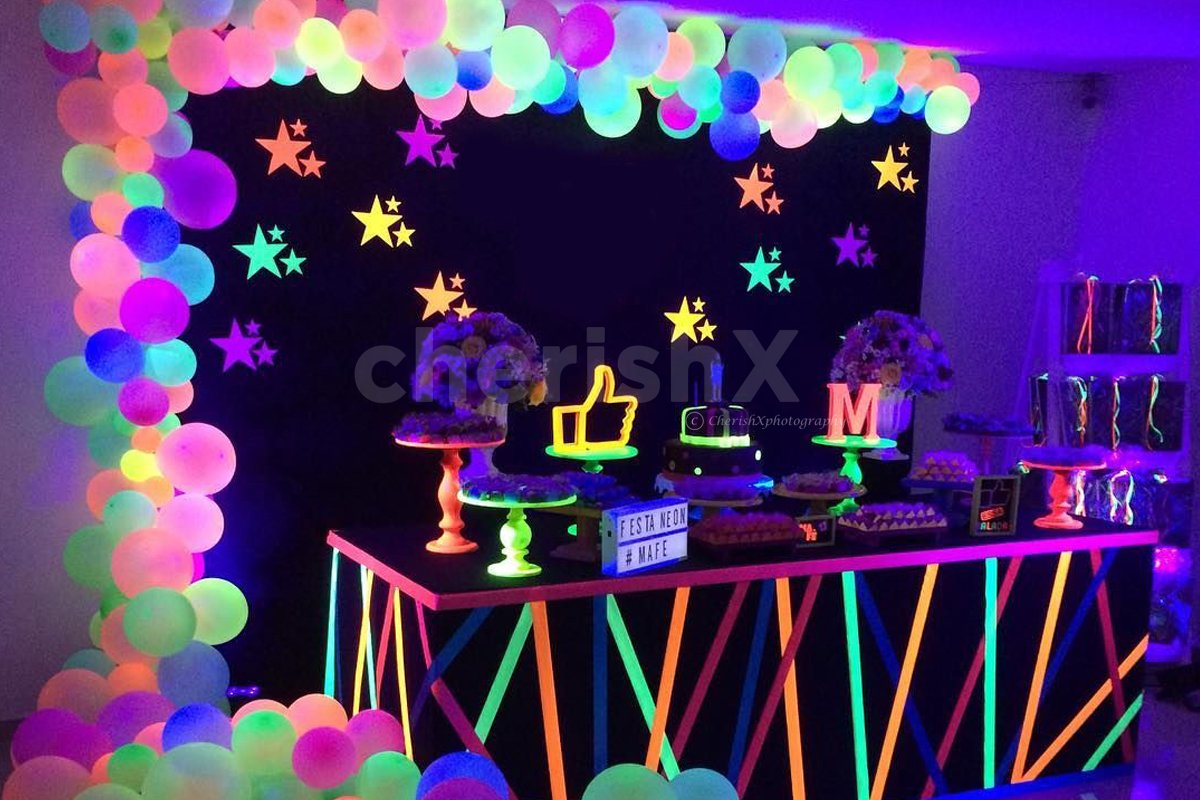 Glowing Decor
Glow-In-The-Dark Decor in Delhi, Gurgaon, Noida & NCR
About The Experience
Your child is like a shining star, so he deserves a decor for his birthday that glows-just like him! Surprise your little one on his birthday with a lovely, glow-in -the-dark neon decor. This unique and colourful Decor consists of 50 green balloons, 50 pink balloons, 50 orange balloons, 50 yellow balloons, 50 purple balloons, 50 white balloons, 10 glow in the dark stars, 1 glow in the dark happy birthday bunting, and 300 colourful glow sticks placed inside the balloons to create a luminous effect!
Inclusions
300 balloons: Green, Pink, Orange, Yellow, Purple, White colours (50 each)

300 Sticks: Glow sticks inside balloons

10 stars: Glow in Dark

1 'Happy Birthday' bunting: Glow in Dark

A backdrop: Black Colour (6x6)

Decoration will be done at your location

Cutouts are on rent and will be collected the next day
Decoration outside Delhi

Table and the material like cake trays etc.
Need To Know
Cutouts and Stands will be taken back next day.

Your address & any other personal preferences will be taken after your booking

You will have to provide a stool or ladder to reach the ceiling

Choice of foil balloons/cutouts will depend upon availabilty

These are reference images and the actual setup might differ from the images

Please make sure the rented cutouts are not damaged and are returned the next day
Cancellation Policy
3 days or more before an experience: Cancellation with 90% Refund
24 hours to 3 days before an experience: Cancellation with 50% Refund
Less than 24 hours before an experience: Cancellation with no refund
No Cancellation is possible for experiences booked for 13th and 14th February as these are Valentine's Special Packages.
Helped 5+ Million Customers Cherish Their Special Occasions
5+ Million
Happy Customers over 6 years
4.3/5 Reviews
from 500+ reviews on Google
In the Media
Featured by the best
Top Brands
Partnered with top brands