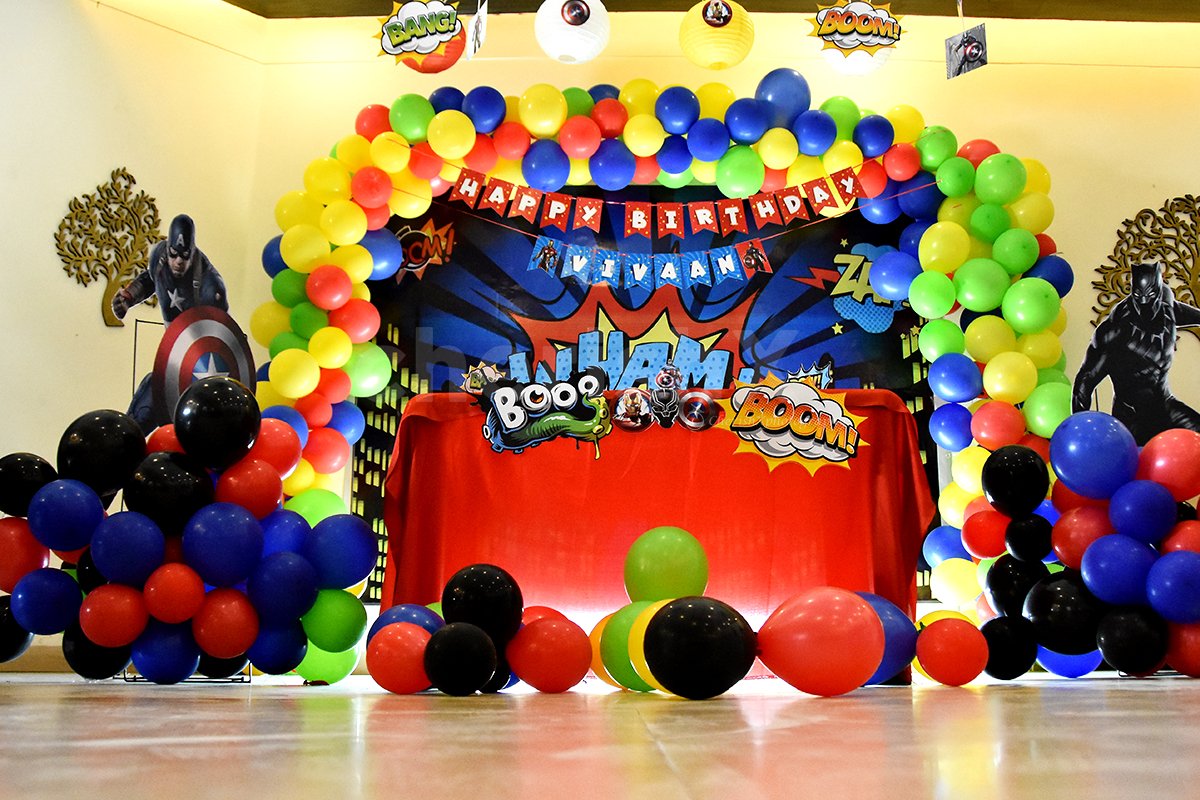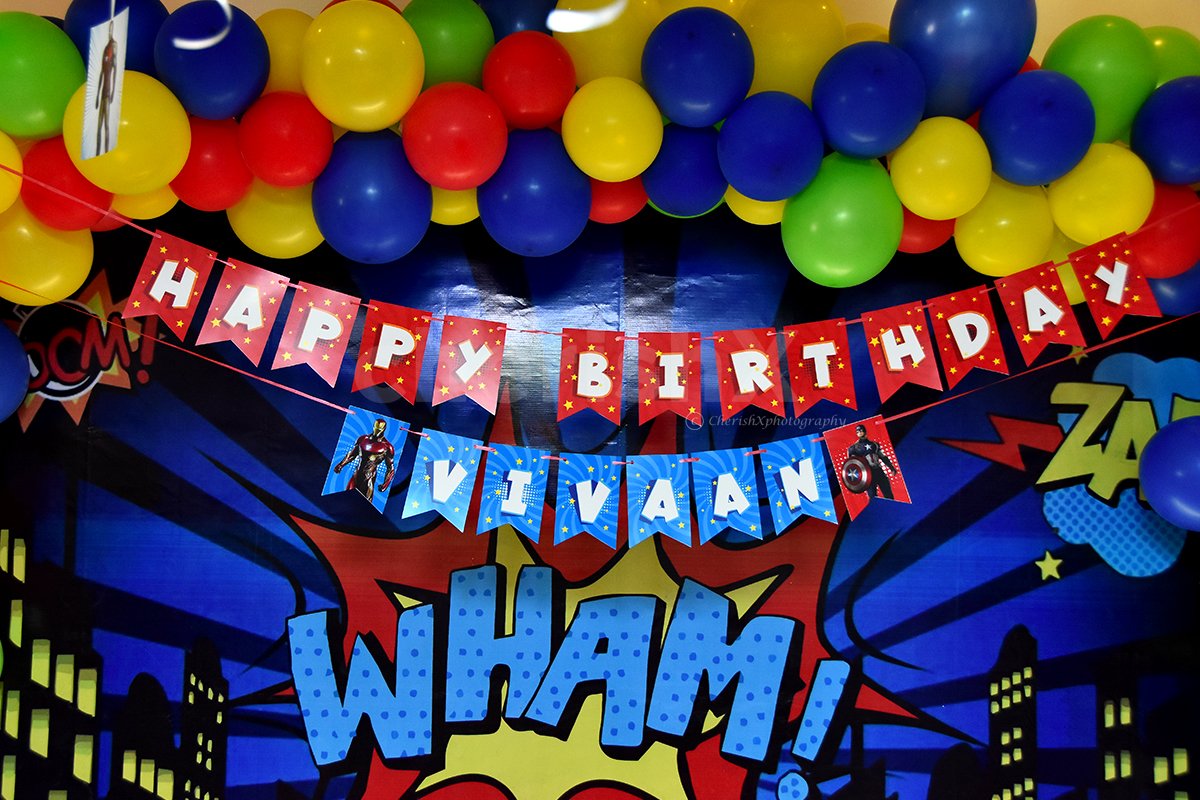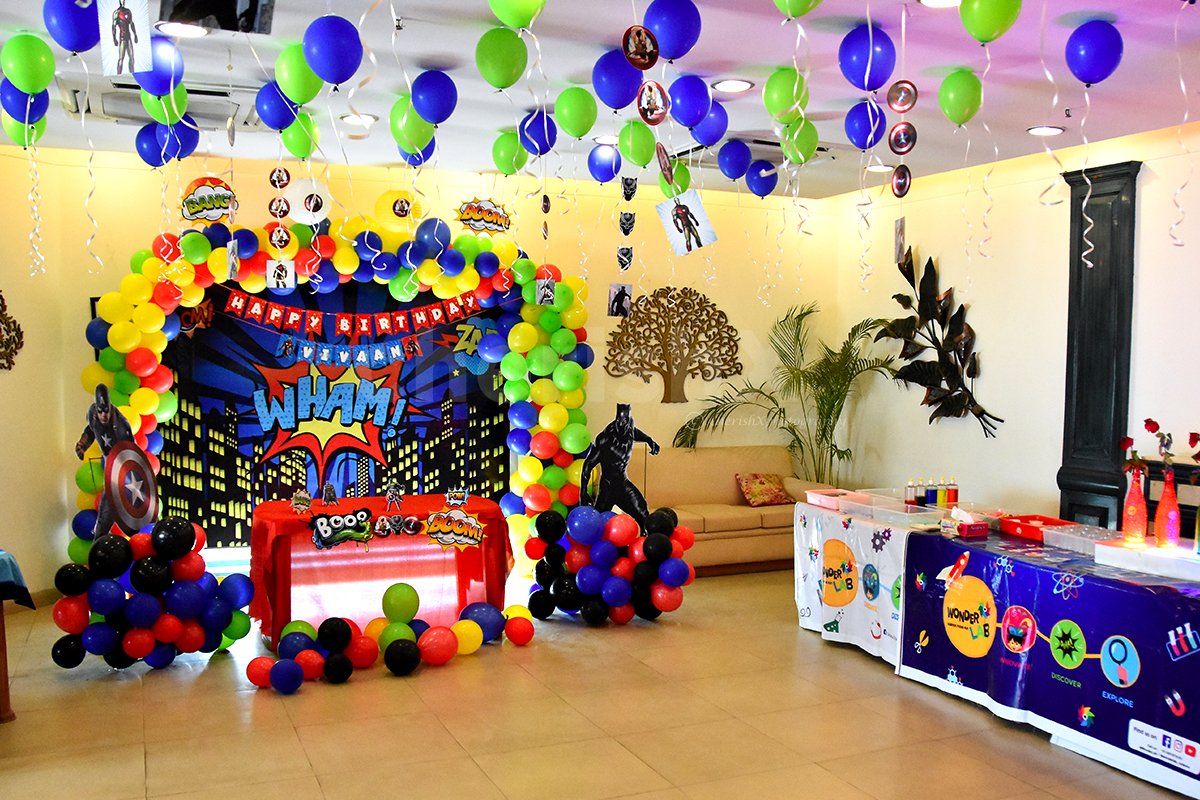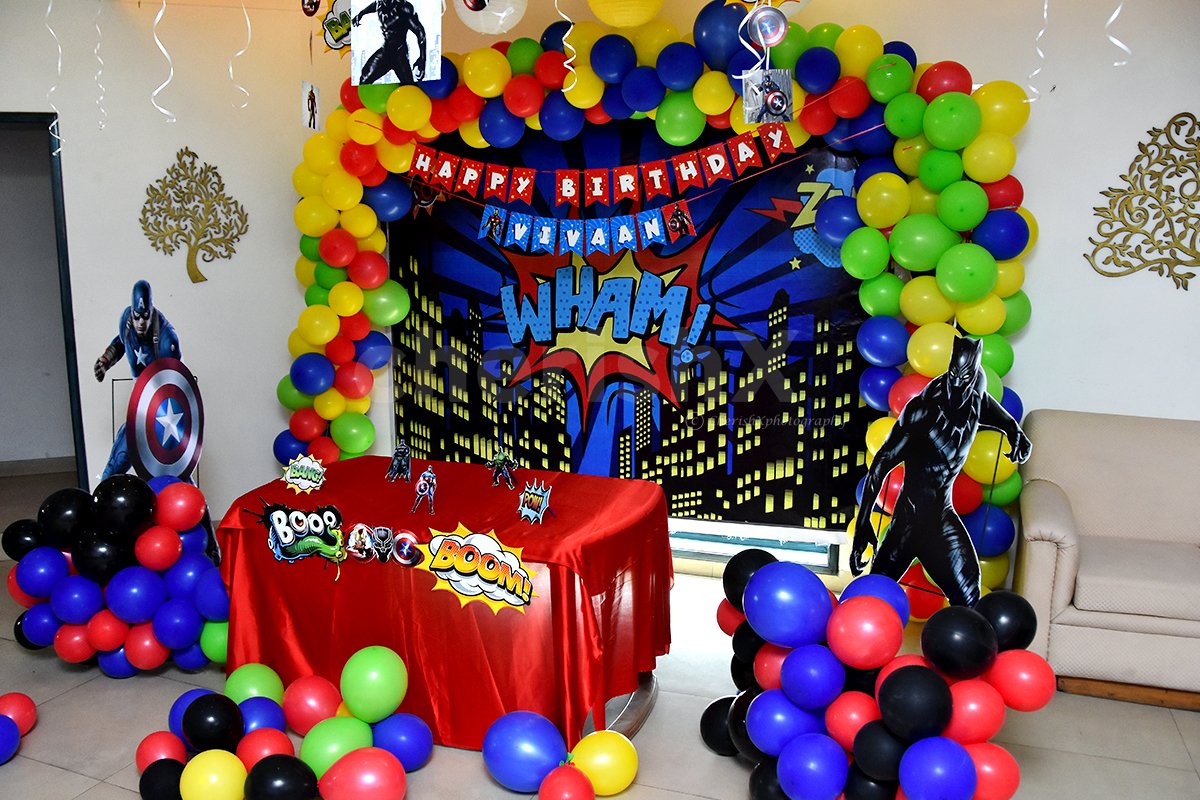 Superhero Kid Decor
Kid's Superhero Decor in Delhi, Gurgaon, Noida & NCR, Bangalore
About The Experience
Wham bam shazam and pow! Your kid is a superhero in his own world. On his/her birthday, make her feel special with this power-packed decor courtesy CherishX. This unique and creative decor consists of a combination of 600 balloons- red, blue, yellow, purple, grey, black, green ,9 superhero themed hangings,1 'WHAM!' superhero theme backdrop poster (6x6), 4 superhero cutouts on rent-Iron man, Black Panther, Thanos, Captain America (based on the Kid's choice), and 20 colourful balloons loose on the floor.
Inclusions
300 balloons to form backdrop arc: Red, Blue, Green & Yellow color

200 balloons and 5 superhero paper cutouts to form entrance arc: Yellow, Red ,Purple, Grey & Black color

1 backdrop poster : 'wham' superhero theme (6x6ft)

3 superhero cutouts on rent: Captain America,Iron Man,Black Panther (4x2ft)

1 big superhero cutout on rent:Thanos (6x3ft)

100 balloons- 80 on ceiling and 20 loose on floor

1 table cloth and 4 paper cutouts to decorate cake table

4 lanterns with superhero paper cutouts

9 superhero themed hangings on ceiling: Captain America,Iron Man,Black Panther

Decoration will be done by our team at your location

Cutouts are on rent and will be collected the next
Decoration outside Delhi NCR, Bangalore

Table and the material like cake trays etc.
Need To Know
Tape will be used to attach balloons on the wall

Your address & any other personal preferences will be taken after your booking

Choice of superhero will depend upon availability

Choice of foil balloons/cutouts will depend upon availabilty

Please make sure the rented cutouts are not damaged and are returned the next day.
Cancellation Policy
5 days or more before experience: Cancellation with 90% Refund
3 days to 5 days before experience: 50% Refund
Less than 3 days before experience: No refund
No Cancellation is possible for experiences booked for 13th and 14th February as these are Valentine's Special Packages.
Helped 5+ Million Customers Cherish Their Special Occasions
5+ Million
Happy Customers over 6 years
4.3/5 Reviews
from 500+ reviews on Google
In the Media
Featured by the best
Top Brands
Partnered with top brands